The vice president of Bolivia, Alvaro Garcia Linera, also announced his resignation this Sunday.
The Vice President of Bolivia, Alvaro Garcia Linera, reported on Sunday his resignation to accompany the decision of the president, Evo Morales, who presented his resignation after an escalation of tensions in the South American country.
"I will always be loyal (to the President), I will always be by his side," said the vice president, at the time of announcing his resignation in a joint press conference with Morales.
According to article 169 of the Constitution of Bolivia, in case of "definitive impediment or absence" of the Head of State, this will be replaced by the vice president. However, in the absence of this, the Magna Carta establishes the option of relieving it by the president of the Senate.
Ultimately, the head of state could be assumed by the president of the Chamber of Deputies, and, in that case "new elections will be called within a maximum period of ninety days. "
Garcia Linera denounced that a "coup d'etat" against the president has been consummated and stressed that the decision to leave his post seeks to prevent a bloodbath in Bolivia.
"We will always be on the side of the humblest. We will not leave them alone. And I am sure, sooner rather than later, Bolivia will raise its head again. It is a sad and unfortunate moment, but the people's democracy will be restored again, "said the vice president.
In the press conference, Morales, meanwhile, stressed that the resignation "is no betrayal of social movements." "The struggle continues, we are peoples that thanks to this political and organic unity, we have liberated Bolivia. We are leaving a homeland released"he added.
"This is a coup d'etat"
Evo Morales had called for new general elections in Bolivia "to seek peace", in accordance with a suggestion from the Organization of American States (OAS).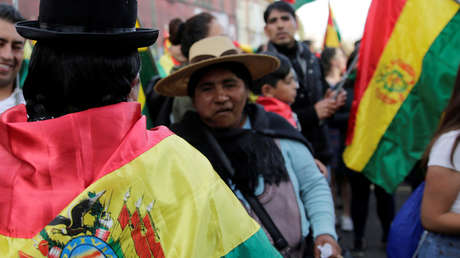 "All for life, all for the country, for democracy and also for social justice," said the president.
However, Morales condemned that the civic groups have not accepted the dialogue proposed by his Government and, although new elections were announced and several of his demands were guaranteed, "now they reject everything" and ask for his "resignation".
"This is conspiring against democracy, this is a coup d'etat," the Bolivian head of state condemned before his resignation was communicated.
Source link
https://actualidad.rt.com/actualidad/333196-garcia-linera-renuncia-evo-morales
Dmca