Rafael Nadal can hardly believe that he has succeeded in ending the year as number one in the world. The Spaniard was ahead of Novak Djokovic in the exciting battle for the highest position in the ATP ranking.
33-year-old Nadal was eliminated in the group stage of the ATP Finals on Friday, despite a victory against Stefanos Tsitsipas, but the same was true of competitor Djokovic. As a result, the Serbian one year younger can no longer pass the Spaniard on the world ranking list in 2019.
"This trophy stands for my performance throughout the year, so I can't thank the fans enough for all the support. I am very happy," said a revered Nadal at the presentation of the cup at the O2 Arena in London, where the matches are played at the ATP Finals.
"To be honest, because of my injury history, I never thought that I would get this cup in my hands again at the age of 33. That is why this is very emotional for me. A lot of work has been done behind the scenes, so I am now standing here. Without my family it would have been completely impossible. "
Despite his injury oath – two weeks ago Nadal still had to give up for his semi-final at the Paris Masters tournament – he had a strong year. The nineteen-time Grand Slam winner not only won both Roland Garros and the US Open, but also reached the final of the Australian Open.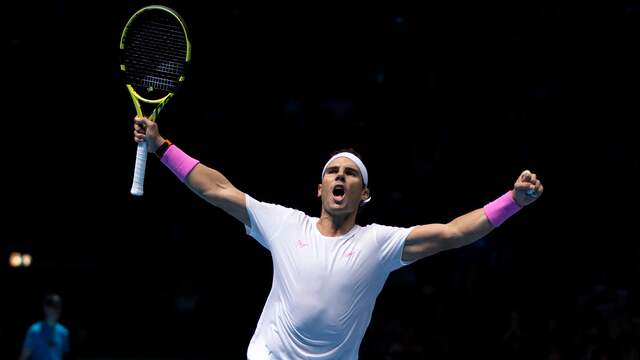 Rafael Nadal ends 2019 as the number one in the world. (Photo: Pro Shots)
Nadal equals Federer, Djokovic and Connors
Nadal, who lost the final battle in Melbourne to Djokovic, finished the year with a total of four titles. He won the Masters tournament in Rome in May and won the Masters tournament in Montreal in August.
For Nadal it is already the fifth time that he finishes the year as number one, after already leading the world ranking at the end of 2008, 2010, 2013 and 2017. Only Pete Sampras ended the year more often as global number one (six times).
Roger Federer, Djokovic and Jimmy Connors succeeded five times, just like Nadal. It is the sixteenth consecutive time that a player of 'The Big Four' (Federer, Nadal, Djokovic and Andy Murray) can call themselves the number one in the world at the end of the year.
"It means a lot to me that I equal Federer and Djokovic," said Nadal. "It gives me a sense of satisfaction, because I missed a lot of tournaments in my career due to injuries. The number one position is never a goal in itself, but of course I am very happy."
Source link
https://www.nu.nl/tennis/6011409/nadal-emotioneel-en-trots-door-veiligstellen-nummer-een-positie.html
Dmca